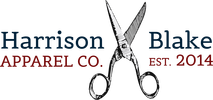 I recently found Harrison Blake Apparel and decided to try out their monthly club in hopes of getting a few things I can use as Christmas gifts for my teenage sons and husband. Both of my boys wear 'fancy duds' often but they are also becoming quite fussy in the quality of their clothing and accessories. I wasn't sure how HB would measure up but thought it was worth a try.
All of the details on the Selected club can be found
here
, but in a nutshell it's $25 US for 1 necktie and 4 other accessories. From what I've seen of past boxes (which they have photos of on their site), the accessories typically include pocket squares, tie bars, lapel pins, bracelets or watches. All items are HB brand so you can't really compare the prices elsewhere. There is a bow tie club available as well.
You are billed on the 20th of the month for the next month's box. I asked if I could get November's even though I subscribed on Nov. 3 and sure enough, they shipped it to me right away on Nov. 6. I received it today, Nov. 17th which is an excellent turn around time for something coming from the US.
Contents:
This month was extra-special as there were 6 items rather than the usual 5. There is a card included itemizing the items and providing a retail price.
1. Rosette Lapel Pin - $15
2. Microfibre pocket square - $18
3. Knit necktie - $25
4. Anchor tie bar - $24
5. Leather Anchor bracelet - $12
6. Stainless Steel collar stays - $20
Verdict:
They did a great job on this month's theme - the items look great together. I don't think any of the males in my house would wear anchor items on a daily basis (but with teenagers, who knows), but we go on a cruise every couple of years so they will definitely wear them then. My oldest son LOVES knit ties so I know he will love this one. He wears pocket squares all of the time at work and he's also starting to wear lapel pins so I think this month's box will be part of his Christmas present. Overall, $114 retail value for $25 is a great deal. As for quality of the items, the tie and pocket square felt very nice. We'll have to see how well they hold up after a few uses but they appear to be good quality.
The item I like the most are the collar stays. These will definitely get used. They have small magnets to keep them in place - what an excellent idea! I checked on their site to see if I could purchase an additional pair but they are only available in this box.
If you are interested in this particular box, it is available for $35 on their site now.
If you are interested in a sneak peek of December's box, you can find that
here
. I know my boys will be happy with everything in it! I'm thinking of getting a second box for a gift for my nephew too.